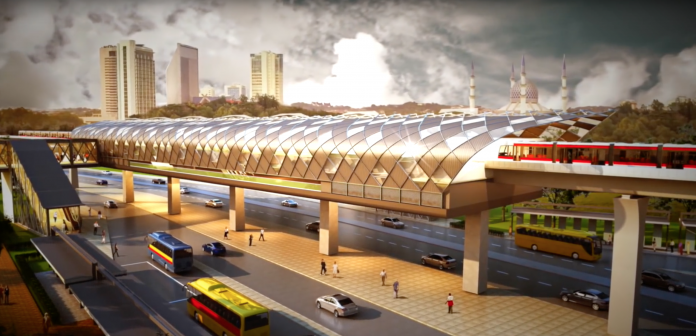 A consortium of rolling stock manufacturers including CRRC, Siemens and Malaysian firm Tegap Dinamik has been awarded a contract to supply 42 unmanned light rail vehicles for Malaysia.
The $364 million deal was awarded by the state-owned public transport company Prasarana Malaysia and covers the design, manufacture, supply, delivery, installation and commissioning of the six-car vehicles.
CRRC's Malaysian manufacturing facility in Batu Gajah, Perak, will supply 40 of the vehicles.
---
Follow Global Rail News on Facebook to receive updates throughout the day
---
The vehicles will be used on the planned 37km Bandar Utama–Klang line, also known as the LRT3 project, which is situated in the Greater Kuala Lumpur area. It is expected to be operational in 2020.
The vehicles will be able to carry a maximum of 1,271 passengers each and travel at speeds of up to 80km/h.
Prasarana Group chairman Tan Sri Ismail Adam said: "The LRT3 project is officially underway and this award shows that our construction is gaining momentum.
"With the three companies' proven track record, experience and quality of delivery, I am confident that works will be completed within the time and cost."
---
Read more: GE Transportation reveals first painted freight train from $2.5bn Indian Railways order
---