Massachusetts Bay Transportation Authority (MBTA) has awarded the $1 billion (around €851 million) contract to design and construct the Green line extension of Boston's light rail network.
The winning bidder of the transport agency's largest ever construction contract was the GLX Constructors joint venture, which consists of Balfour Beatty Infrastructure, Fluor, Herzog and Middlesex Corporation.
The 4.7 mile extension will begin at a relocated Lechmere station in Cambridge, the line's current northern terminus, and travel north to Medford. A branch line will also be built to Union Square (See map below).
Work is due to begin in 2018 with the new section of the light rail network to open in late 2021.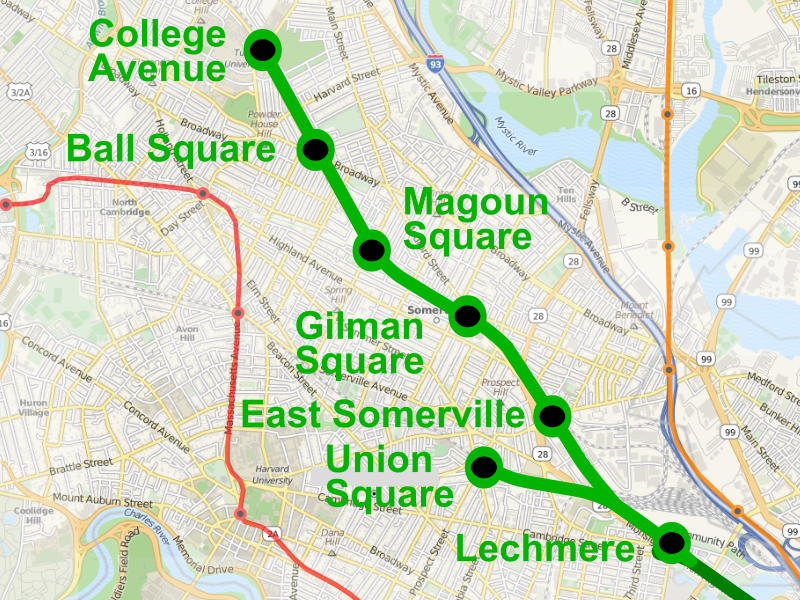 As well as the two branches of the line, the scope of the work includes the construction of seven new stations, a vehicle storage and maintenance facility and the relocation of Lechmere station.
It is hoped the project will boost regional mobility, encourage commuters to ditch their cars in favour of the light rail and resultantly reduce emissions. By 2030 the projected daily ridership at the new stations is estimated to be 45,000.
Hans Dekker is the president of Fluor's infrastructure business, which leads the construction consortium. In total the consortium has been awarded $1.08 billion for construction.
GLX Constructors pipped the Green Line Partners consortium, which included: the Lane Construction; Salini Impregilo; Judlau Contracting; LM Heavy Civil Construction; and CMC, to the contract.
A Walsh-Barletta-Granite joint venture, between: Walsh Construction Company; Barletta Heavy Division; and Granite Construction, pulled out of the running when it said it couldn't complete construction under the project's $1.3 billion affordability limit.
Hans said: "Fluor is pleased to be chosen to lead the joint venture team that will oversee the design and construction of this project.
"Our team brings an integrated solutions approach to designing and building megaprojects, a legacy of rail experience and a proven track record of delivering complex projects for our clients. We look forward to improving mobility for Boston-area residents."
MBTA general manager Luis Ramirez added: "The selection process was extensive and thorough, and we are pleased that the outcome is that the cost is under our affordability limit. "
---
Read more: Faiveley Transport awarded €127m train contracts in New South Wales
---