GE Transportation has strengthened its association with state-owned railway company Kazakhstan Temir Zholy (KTZ) with the signing of two deals worth more than $900 million (∼€730 million).
The contract covers the delivery of 300 shunter locomotives and an 18-year service agreement to maintain and repair 175 passenger Evolution Series locomotives.
The first two shunters are expected to be delivered in 2019 with full delivery expected over the next ten years.
Kazakh president Nursultan Nazarbayev struck up the deal during his visit to the United States in January, under invitation from US president Donald Trump.
KTZ chair Kanat Alpysbayev said: "We selected GE technology to be the primary driver for developing Kazakhstan's rail industry, and together we've introduced joint projects to modernise and service the legacy diesel-electric fleet, as well as produce new freight and passenger Evolution-series locomotives in Astana."
Alpysbayev added that the agreements will further modernise its fleet and expand the range of locomotives made in Kazakhstan to better meet the needs of the domestic market, as well as countries in the broader Commonwealth of Independent States and Baltic regions.
---
Like this story? Follow us on Facebook to keep up to date on rail industry news
---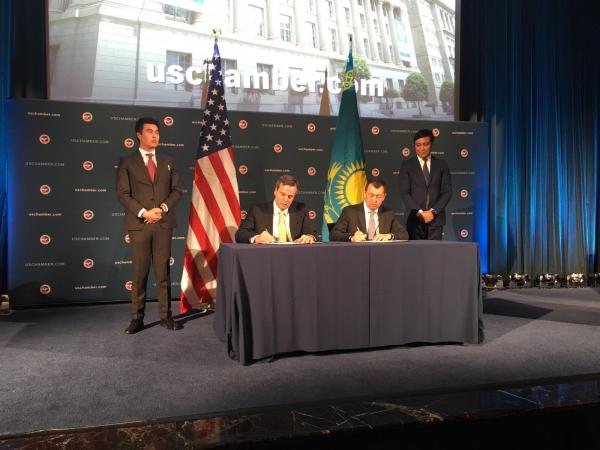 GE Transportation has worked in Kazakhstan for more than 20 years as part of its commitment to helping to develop the country's railways.
In 1995, GE Transportation supplied more than 400 modernisation kits, extending the revenue-generating life of KTZ's existing fleet by up to 20 years.
In 2006, it constructed a locomotive assembly plant in the capital city of Astana. To date more than 300 freight locomotives and 8 passenger locomotives have been built at that factory.
In 2009 and 2011, GE Transportation signed long-term service deals and in 2017 it bought 50 per cent of local locomotive manufacturer Lokomotiv Kurastyru Zauyty from KTZ.
KTZ has since become GE Transportation's largest international rail customer.
GE Transportation CEO Rafael Santana said: "Our mission is to build economies through innovation and modernisation.
"Since its independence in the early '90s, Kazakhstan has demonstrated great economic progress, and GE Transportation is proud to have been a part of the country's transformation journey from the start."
"Our new agreements with KTZ reflect our ongoing commitment to partnering with Kazakhstan to build a world class rail industry that serves the region and beyond."
---
Read more: Stadler – "We have now broken into the Polish market"
---