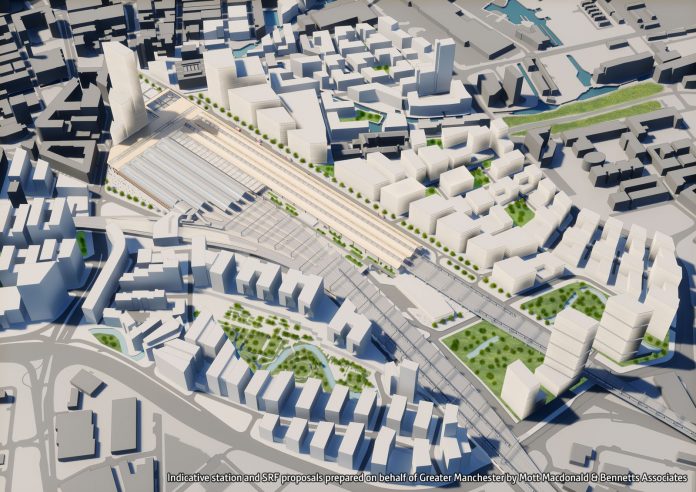 Politicians and business leaders in Manchester have launched a strategy designed to maximise the growth opportunities presented by HS2 and Northern Powerhouse Rail.
The strategy,  focuses on station design, transport connectivity, regeneration around stations and skills.
According to the report, the preferred option for Manchester Piccadilly would create the opportunity to create 40,000 new jobs, 13,000 new homes and almost a million square metres of commercial space.
A new station at Manchester Airport would also create "a new diverse neighbourhood with homes, offices and hotels, as well as the potential for 20,000 new jobs over the next 10 years".
This slideshow requires JavaScript.
HS2 is scheduled to reach Manchester by 2026, with full operations planned for 2033.
Jake Berry MP, Northern Powerhouse Minister, said: "This government is spending more than any other in history – over £13 billion – to upgrade the transport network across the Northern Powerhouse.
"The HS2 Growth Strategy highlights the extensive opportunities and benefits that HS2 and Northern Powerhouse Rail will bring to the region.
"We very much welcome its ambition and look forward to today marking the start of an ongoing collaborative relationship, as we work together to develop a bold Northern Powerhouse transport vision that benefits passengers, drives regeneration, and gives value to taxpayers."
---
Read more: Bombardier's London Overground fleet maintenance contract extended
---