Delhi Metro Rail Corporation (DMRC) has begun services on the city's new metro line.
Line 7, also known as the Pink line, will run for 59km with 38 stations between Majlis Park and Shiv Vihar station once it is complete.
Initially, only the 21.56km route along a circular route from Majlis Park to Delhi University's South Campus, which features 12 stations, has been opened.
Navneet Kaushik, Delhi metro's executive director for signalling, described the launch as a major milestone in the expansion of public transport in the city.
Navneet added: "Once completed this line will ease pressure on the existing network as it will interchange at 11 stations with other Metro lines, out of which five will be available with opening of this section. Line 7 will transform travel options across our capital city."
---
Like this story? Follow us on Facebook to keep up to date on rail industry news
---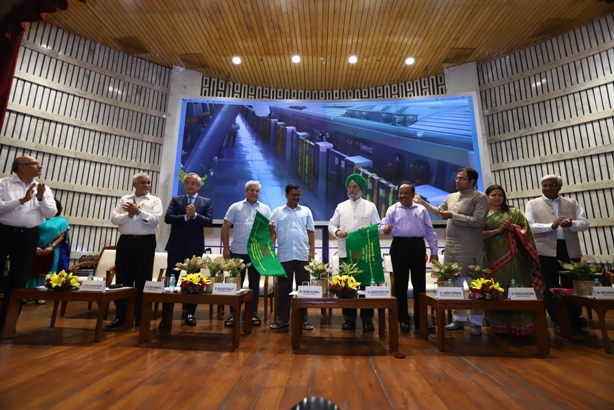 The new line is fitted with Bombardier Transportation's CITYFLO driverless train system, meaning trains can operate at speeds of up to 85km/h with a peak frequency of one train just over every 90 seconds.
Rasmi Ray, Bombardier Transportation's head of rail control solutions in India, added: "It is an exciting moment to see this important metro line start operation with our proven CITYFLO 650 rail control technology.
"Our metro cars on Lines 2, 3 and 4 and signalling on Lines 5 and 6 are already safely moving around 1.5 million passengers daily and we look forward to continuing our successful relationship of over 10 years to support DMRC in its expansion of Delhi's metro network."
The line was inaugurated by Indian urban affairs minister Hardeep Singh Puri, Delhi chief minister Arvind Kejriwal and DMRC managing director Mangu Singh.
Japan's ambassador to India Kenji Hiramatsu was also present as Japan has both technically and financially supported the project.
With the opening of this section, the Delhi metro network has expanded to 252km.
---
Read more: Indonesian train manufacturer PT INKA targets sales in Chicago
---